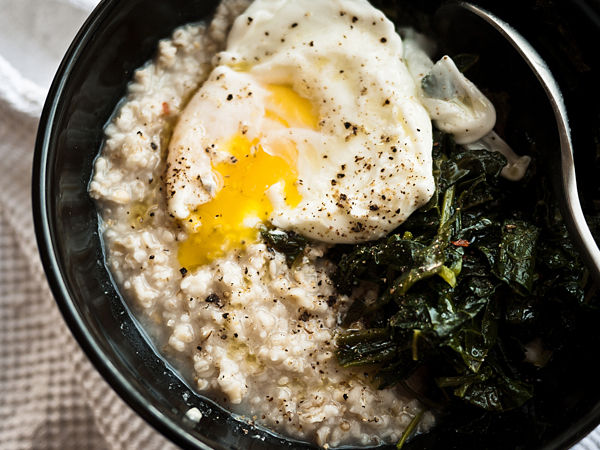 Maybe you've already heard (especially if you follow me on Twitter), but I'm officially addicted to savory oatmeal. I've been eating it constantly for breakfast and have even been tempted to eat it for dinner too, especially with all this research/thesis-writing staring me in the face.
It's a bit blurry but I think this is what happened. One day, I stumbled upon Penny De Los Santos' gorgeous post about savory oatmeal and I unconsciously filed the idea away. Then one morning a few months later, I was rummaging for breakfast ideas, spotted some leftover oatmeal, randomly remembered the idea, and voila! An obsession was born.
Honestly, I may never go back to the sweet stuff again, now that I've started playing around with the endless possibilities of the savory path. Leftover sauteed greens, a poached egg, and a pinch of red chili flakes (top photo)? Oh it works.
And of course, I had to try Penny's original idea of olive oil, sea salt, black pepper, and a hard cheese (I used Parmigiano). Oh dear. It may not look like much but hey, didn't your parents teach you to not judge an oatmeal by its color??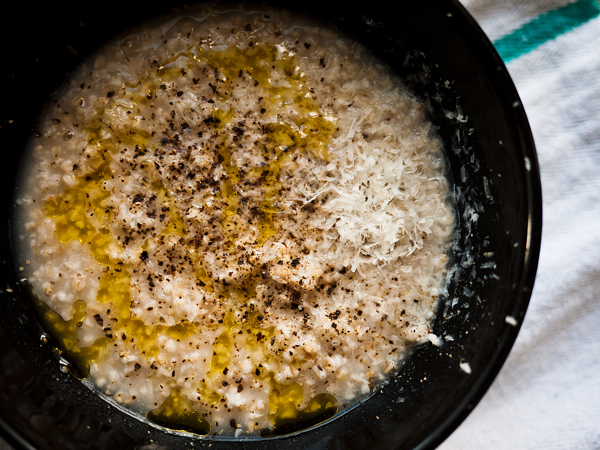 Another morning, I had a craving for soy sauce and found some chives in the fridge. After I took this photo, I even went and sprinkled some furikake on top. I'm never one to turn down seaweed and MSG after all.
Since Nathan has taken to making some sort of salsa every week, I sometimes just throw some on my oatmeal the next morning. With a fried egg, naturally.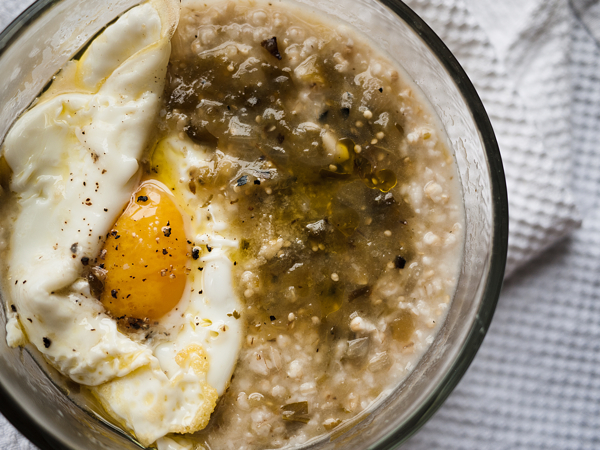 I proclaim 2011 to be the Year of the Oatmeal. But only of the savory kind. The brown sugar/maple syrup stuff is sooo 2010, man.
What about you? Are you a fan of savory oatmeal? What are your favorite combinations?