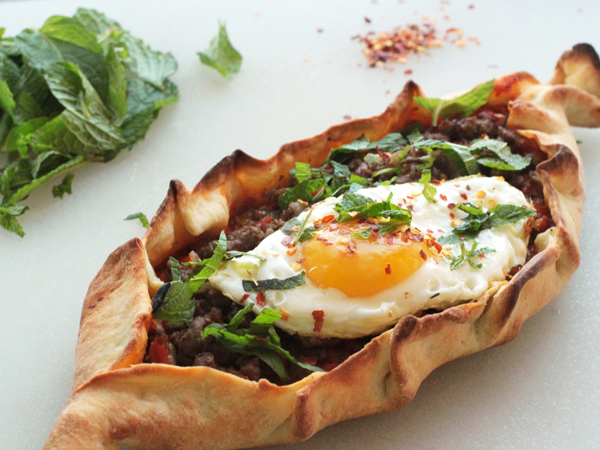 Yes, it's true! We made it to Round 5 of Project Food Blog! This is my entry for challenge #5: put our own spin on the beloved pizza.
Oh pizza. You and I, we've known each other a long time, haven't we?
I still remember when we became friends, when I was a little girl in Hong Kong. My grandmothers would take my sister and me to that one Pizza Hut in Central for lunch when we've been especially well-behaved. Boy, you sure had some crazy toppings back then. Assorted shellfish? Thousand-island dressing? Together?? But hey, that's all behind us now, so let's not dwell on the past. Besides, I was just so thankful you gave us an excuse for those outings and more importantly, the occasional breaks from rice-based lunches.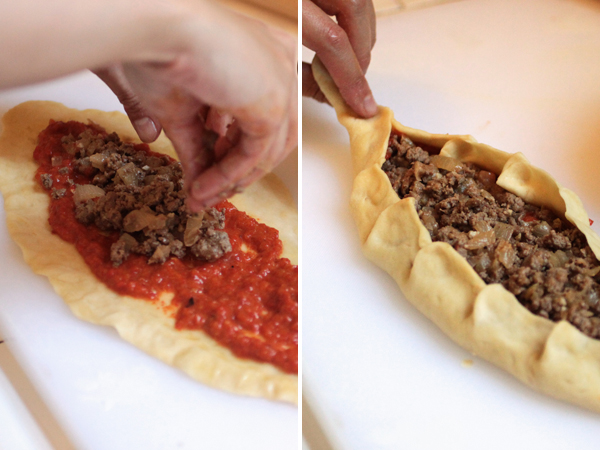 Then in high school, remember how we would meet for lunch every day? This was, of course, because my friends and I had developed the optimal strategy for utilizing our thirty-minute lunch period. It involved grabbing the table closest to the pizza line, buying a slice of pizza and a drink (Hawaiian Punch or Country Time Lemonade), then chowing down. You used to come straight from the Little Caesar down the street – or was it Domino's – piping hot and smelling heavenly. But, and there's really no graceful way to put this, I always used up a couple of napkins soaking up the pools of oil on top of my slice. I'm sorry if that was rude, but when you eat pizza every day, that's the kind of stuff that you think actually matters.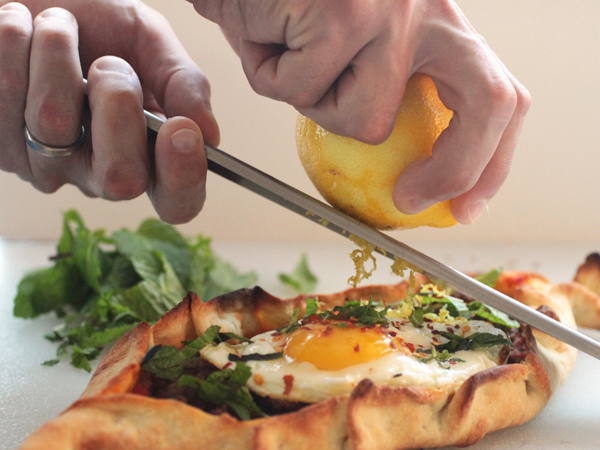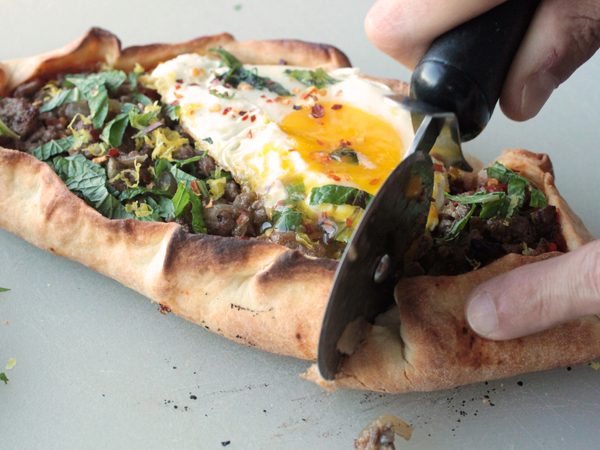 During college, when my friends and I would work on class projects in the computer lab late into the night, you would arrive via a Papa Johns delivery car. That little tub of garlic something-or-other dip always tagged along with you plus a couple of peperoncini peppers, which we would sometimes fight over. Truth be told, on those nights, you were nothing more than fuel.
I even remember that one time in London, near the beginning of my work-abroad program, when some of my new co-workers and I went to the Pizza Express in Soho for dinner. When the bill came, they refused to let me pay, one of them saying that he remembered what it was like when he was my age and just starting out in the real world. I will never forget that night, when I witnessed true kindness and generosity in near-strangers in a strange country and how that made me feel just a little less homesick.
So you see, with so much history behind us, it's not surprising that I found it rather difficult to think about reinventing you at home. That is, until I remember the day I met pide.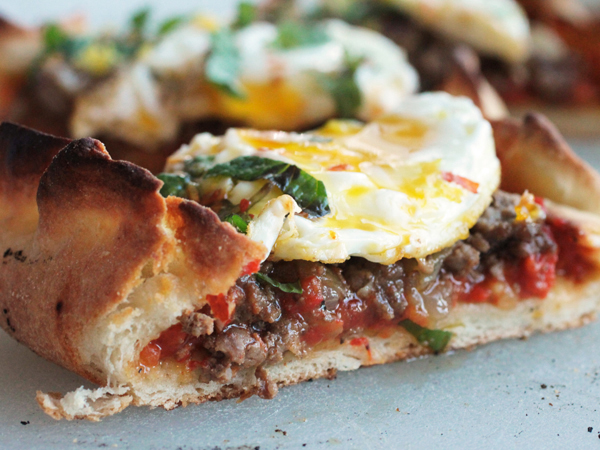 It was a night, a couple of years ago, when Nathan and I joined some friends for dinner at a Turkish restaurant in the Tenderloin. While chatting, I absent-mindedly chose something off the menu without really knowing what it was. What the waiter placed in front of me looked a lot like you, smelled kind of like you, but tasted only slightly like you. It was almost as if you had traveled the world and back, bringing with you new ideas for toppings, a generous dose of spices, and a wonderfully exotic way of shaping the dough. I didn't think about pide for a long time after that, but I guess in the back of my mind, I always knew that we were destined to meet again.
Oh pizza, you know that I will never forsake you. All I'm saying is that now, I might turn to my new friend pide every now and then for a change, especially if I'm craving something simultaneously familiar and exotic. It's not that I like pide more than you or anything. I like you both equally but in different ways. Surely, you can understand that, right?
The dough for Turkish pide is very similar to a basic pizza dough. I referred to this dough recipe and modified it only slightly. When searching for pide, be aware that there is another Turkish bread by that name, which is usually served during Ramadan. That is not the one you want.
For the topping, ground beef can be a good substitute for ground lamb. Traditionally, either chopped tomatoes or tomato paste is added with the meat and no separate sauce is used, so our combination of red pepper sauce and spiced meat is not exactly authentic. See here for a list of common toppings you would find in Turkey.