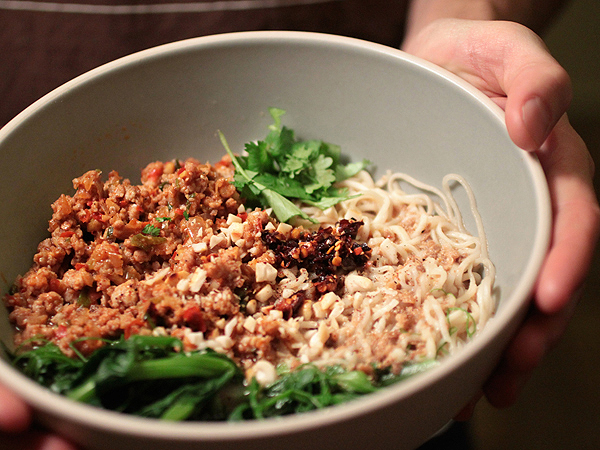 Boy, you guys are really something – thanks to you, we made the cut in Round 3 of Project Food Blog! This is my entry for challenge #4: photograph step-by-step instructions for a technique or recipe.
About a year ago, during dim sum with my parents, I wondered aloud whether I can make char siu bao (BBQ pork buns) at home. My mom's ears perked up and that afternoon, she was digging into a closet, rummaging through boxes, emerging triumphant with a thin piece of paper. She handed me the paper, which had, printed in faded ink, a recipe in Chinese for char siu bao. Coming from a woman who never uses recipes, I knew this was a very, very big deal. Reading through, I saw that it not only unabashedly listed lard as a major ingredient, but also used old-timey Chinese measurements. Oh dear. It had me at catty.
You can imagine my excitement, then, when, as I was swooning over a particularly fabulous bowl of dan dan mein a couple months ago, she told me she would send me a recipe. For the next few days, I checked my email even more compulsively than usual and nearly jumped out of my chair when her message arrived. I opened the email, which contained one simple link – a link to PF Chang's Dan Dan Noodles recipe.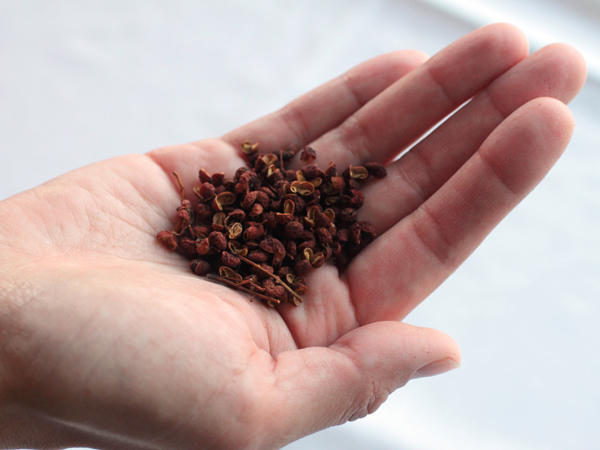 Now, I don't exactly have a problem with PF Chang. Ok, that's a lie – let me rephrase. I don't have a problem with it as long as we agree it's not Chinese food. But here was my mom, my very own made-in-Hong-Kong mother, and she had just sent me a recipe from PF Chang. Well, let's just say it's a rather… interesting… turn of events. Then again, she had sat patiently at her computer to find and send me that link, undeterred by her modem-speed connection. Isn't it the least I can do to actually make some noodles?
Which is why the other night, I sat down on the couch and opened up my laptop. In the hopes of soliciting a few non-PF-Chang-sponsored perspectives, I typed "dan dan noodles" into Google. And fell, head-first, down the rabbit hole.
Dan dan mein, you see, originated as a street food in the Szechuan province and simply translates to "Peddler's Noodles", with dan signifying the pole the street vendors used to carry their baskets and stoves. But from there, the history gets unbelievably complicated and confusing.
As far as I can tell, there are at least five major classes of this noodle dish, spanning four different countries. Those closer to the original Szechuan version are made by piling warm noodles over a pool of chili oil and topping with minced meat and preserved vegetables. More modern versions add sesame paste to the sauce, but whether this modification came from Taiwan is up for debate. In Japan, dan dan mein became tantanmen and looks remarkably like ramen, with the spice kick significantly toned down. Meanwhile, this side of the Pacific, they remain a drier, tossed form of noodle dish but have evolved to be sweeter/less spicy due to omission of Szechuan peppercorns and frequent addition of peanut butter. Sometimes, they're even served cold.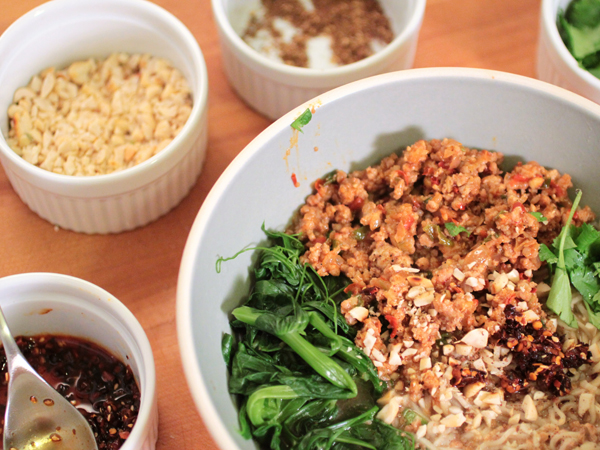 Perhaps most interesting of all, though, are the versions found in Hong Kong and Shanghai that seem to have taken bits and pieces from all those other adaptations. There, when you order dan dan mein, you get spicy noodles topped with minced meat, sitting in a rich broth streaked with sesame-peanut paste. This last version sounds most like what I was swooning over and naturally became the starting point to my own attempt. Along the way, of course, I couldn't help but throw in a few changes of my own – a splash of black vinegar, a sprinkle of ground Szechuan peppercorns, a bundle of blanched pea shoots, a dollop of chili oil – all inspired by the other members of the big happy dan dan mein family.
You know, maybe my mom was trying to tell me something after all. In the end, what really matters isn't whether a recipe is Chinese, Taiwanese, PF-Changinese, or some mixed-up jumble of all of the above. The true test of any recipe is whether what you end up with satisfies your stomach and soothes your soul. These noodles? They pass with flying colors.
—-
You can make dan dan mein with most types of Asian noodles you find at the store, either fresh or dried: Chinese wheat noodles (with egg or without), Japanese udon, Korean noodles, rice noodles, etc. Even spaghetti or linguine can work in a pinch. But if you do have some time, perhaps on a weekend day, making your own noodles can transform the dish from just delicious to absolutely sublime. And if, like me, you have the helping hands of your husband, sister, and friends, making noodles can even be a social affair.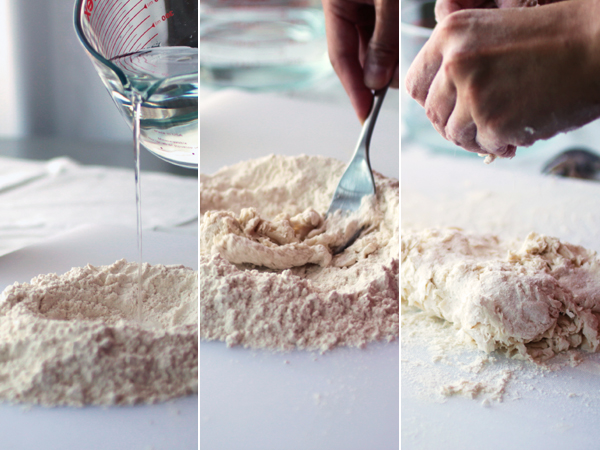 To make Chinese-style eggless noodles, start with the dough. Mix together 2 cups of flour and ½ tsp of salt. Slowly incorporate water (about ½ cup) until the dough comes together.
Knead until smooth and slightly stiff. Wrap in plastic and let rest for at least 30 min.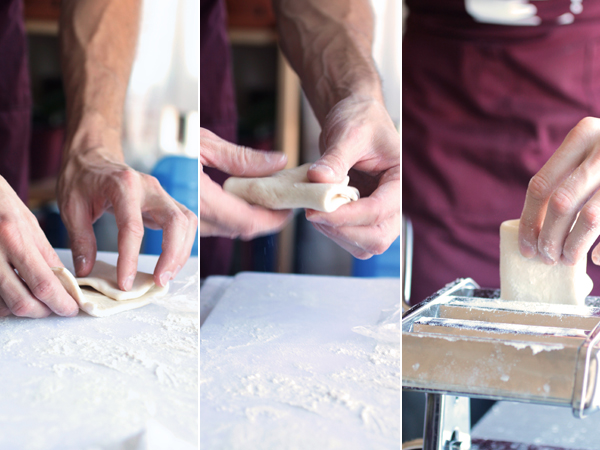 Cut off a small piece of dough and flatten into a rough rectangle with your fingers. Fold in thirds and pass through the thickest setting of your pasta roller. Do this about 5-6 times, dusting with flour as often as needed to keep dough from sticking.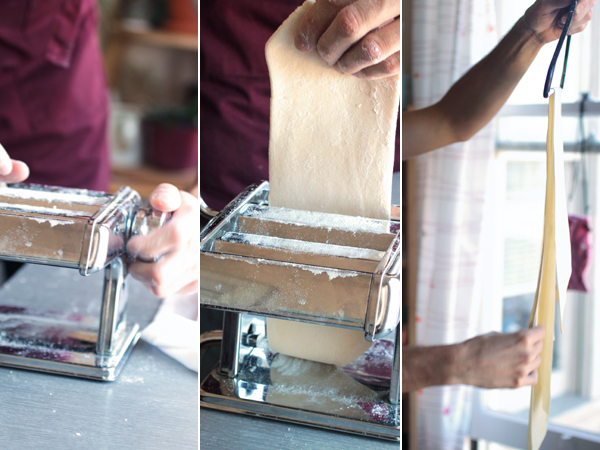 Thin out the sheet by decreasing the pasta roller setting one notch at a time. Stop at either the 3rd or 4th setting depending on your preferred noodle thickness.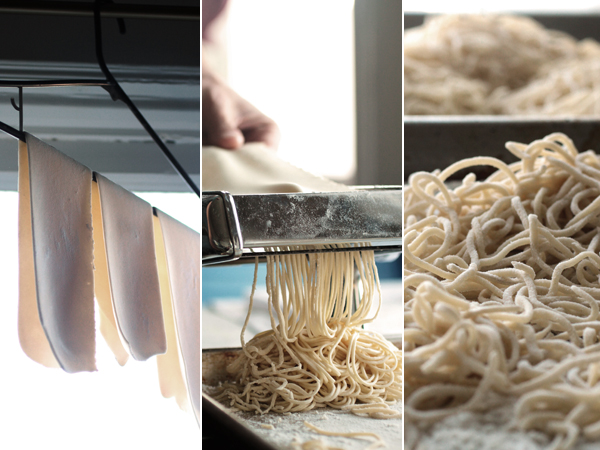 Dust the sheet with flour and hang to dry for about 15-20 min. Repeat with the rest of the dough. Cut each sheet into noodles using the pasta roller's cutter slot. Toss with flour and lay on baking sheet to dry a bit before cooking.
This makes about 2-3 servings of noodles. To make more, I suggest making a second batch of dough instead of scaling up because a larger amount of flour becomes harder to knead and work with.
Adapted from this Chinese recipe. You can find dou ban jiang and Chinese sesame paste at Asian supermarkets.
From a reader's comments, it seems that saltiness of dou ban jiang seems to vary by brand, so start with 3 Tbsp of the paste and taste the meat topping to see if you like that level of salt. Add more according to your taste. I generally prefer things on the salty side and I use Lee Kum Kee brand of dou ban jiang, so I ended up using about 5 Tbsp of dou ban jiang.