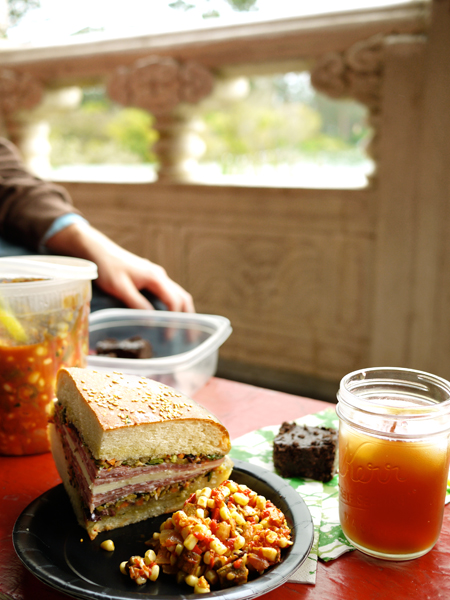 You guys are just too much. Thanks to your votes, we've made it through round 5 of Project Food Blog! This is my entry for challenge #6: pack a full meal to go that looks and tastes great.
[Update 10/30: Sadly, we're officially out of the competition but thank you so much for all your support, both in terms of votes and sweet comments. More than anything, it's been really fun meeting so many new-to-me bloggers and discovering lots of great blogs. Good luck to everyone still in the competition!]
Almost a year and a half ago, almost at this same spot, and almost at this time of the day, Nathan and I agreed to go on a little adventure together. We sealed the agreement with a ring before heading off for some celebratory sushi (including, I kid you not, spoonfuls of happiness) and a rawk(!) show at the Hemlock Tavern. We then went home and spent the next six months planning the biggest party of our lives. So this weekend, about a week after our wedding anniversary, it seemed appropriate to take a little stroll over to where it all began.
We had wanted to spend a sunny afternoon picnicking by the lake, watching people float around in paddle boats, reliving the months leading up to the wedding. There was the funny story of how I was originally supposed to skip out of lab early that Friday, a year and a half ago, but a spontaneous meeting called by my boss nearly put a stop to our afternoon by the lake and Nathan's secret plan to ask me a question. And the one of how we found that gorgeous Tibetan Buddhist center and how lucky we were that they had an open weekend last autumn due to a cancellation.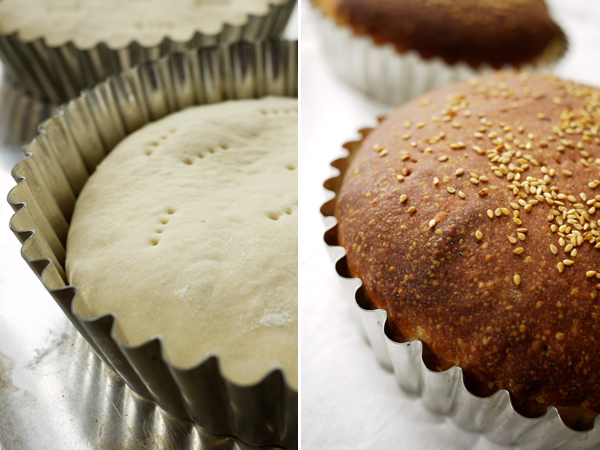 We could talk about us obsessively checking the weather forecast for weeks prior, relieved to hear that rain was forecasted only for a few days before our wedding. Little did we know then that the forecasted rain would turn into the biggest October storm to hit the Santa Cruz area since 1962. When the staff called us on Thursday night, two days before the wedding, to tell us that the center was closed due to mandatory evacuation orders, was running only on generator power, and that the roads leading to the center were partially buried under mudslides, we, to put it mildly, freaked out.
It was incredible how quickly our family and friends mobilized to help us reorganize the weekend of events, including dear Laura who was arranging alternate hotels for our guests even as she was walking down the jetway onto the plane that would bring her to our wedding. "We're going to get married one way or another!" was what we declared to our guest list over email. Thankfully, the center reopened (with power!) Friday at dusk and one of the roads cleared for cars to pass.
We also wanted to reminisce about our wedding day, an amazing day which turned so sunny and warm that the heaters we rented weren't even needed. Plus, there were all the hilarious stories of guests ignoring multiple emails to follow our driving directions instead of GPS and ending up on the other mud-buried road, so that they had to abandon their cars for the weekend, ford across the muddy road, and hitchhike the rest of the way to the wedding.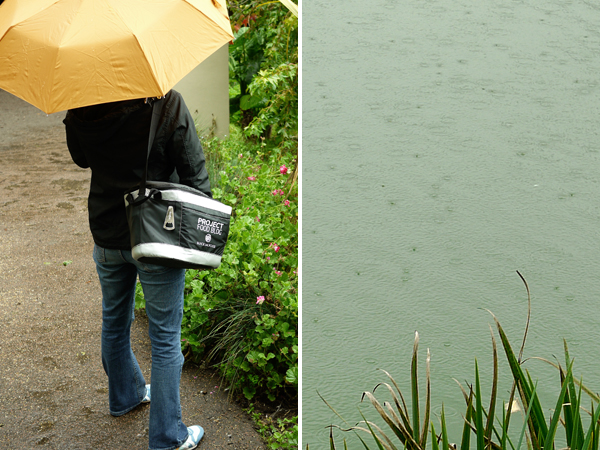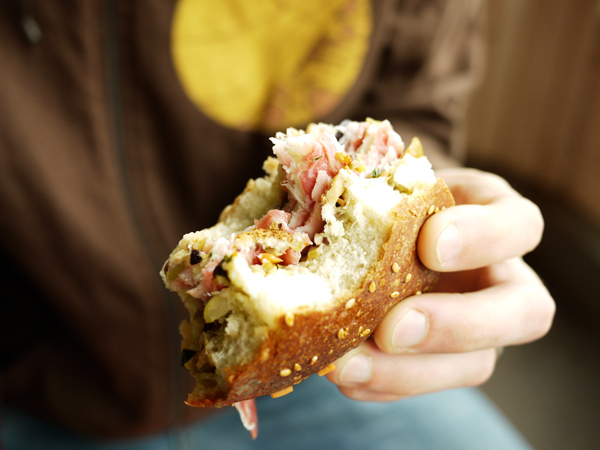 But then, for the second autumn in a row, the weather gods frowned upon us and sent us rain. "We're going to have a picnic one way or another!" was what we declared to no one in particular. So we assembled a bag of goodies for the road – wedges of meaty, olivey muffuletta sandwiches on homemade bread, a tub of spicy Cajun succotash, a jug of sweet tea with mint (bourbon-ed at the last minute to ward off the chill of the rain), and a few sticky squares of strangely-apropos "dark and stormy" brownies. Rain jackets and umbrella in tow (singular because Nathan is steadfastly anti-umbrella), we made our way over to the lake, found a little bench under a gazebo, and did everything we had planned. Well, except the part about watching people float around in paddle boats for none could be found in this weather.
I guess when Nathan and I set our minds on something, whether it be a picnic or a wedding, we have a tendency to make it happen. Rain, mudslide, or shine.
Muffuletta sandwiches are perfect for picnics because they are best an hour or two after assembly. Plus, the instructions call for them to be smushed under heavy weights, which make them ideal for the bottom of your picnic baskets. Instructions are given below for making your own muffuletta loaves but don't let bread-making stop you. Store-bought, Italian-style bread would work quite well as a substitute.
Since Central Grocery, where muffuletta sandwiches were invented, does not give out its recipe, many people have tried to reverse-engineer it. This recipe is based off of the one found in the book It's All American Food, but modified to use half the amount of meat and cheese – seriously, just look at that original recipe and you'll see why we halved it. Due to a shopping mistake, I used pimiento-stuffed olives in place of pimiento in the olive salad, but that still made for a pretty tasty spread.
Succotash can be served cold or at room temperature and in fact, that's how I prefer to eat it. This Cajun version uses okra in place of the traditional beans and adds chili powder and jalapeños for a bit of heat.