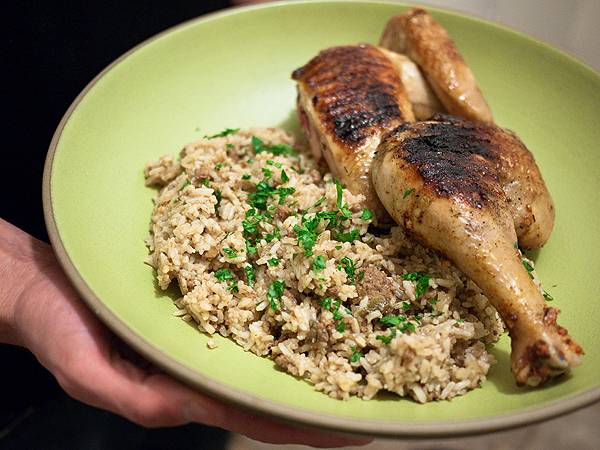 Some of you already know about my aversion to certain tropical fruits. I have no love for guavas (think smelly fruit on crowded Hong Kong buses in the heat of summer and you'll begin to understand what I still associate guava with), passionfruits (to be fair, I've never encountered the fruit so I can only say I don't like passionfruit juice which never fails to elicit many incredulous "What about POG?!" lines of questioning), and durians (unlike my mom and aunts, I've never acquired a taste for durians for which I believe Nathan and Toro are thankful). Being tropical fruits, these aren't exactly common everyday ingredients here in Northern California so on most days, my picky-eating ways remain safely hidden away in the closet.
That is, until we talk about chicken.
Here's the deal. I was raised on Cantonese food, which in my opinion has perfected chicken-cooking to an art form. I'm not talking about chicken in stir-fries or stews or soups; what I mean are dishes where chicken is the lead singer instead of the backup vocals. As a little girl, I ate chicken either poached in water/broth (白切雞, literally "white cut chicken") or soy sauce (鼓油鷄). Sometimes, we would go out to dinner and order chickens baked/steamed in salt (鹽焗雞), a Hakka specialty. Less often, at fancy meals or banquets, I got to eat chicken fried without batter (炸子雞), with skin so crispy that it crackled like paper, to be dipped for a millisecond into a little dish of Szechuan-peppercorn-infused salt.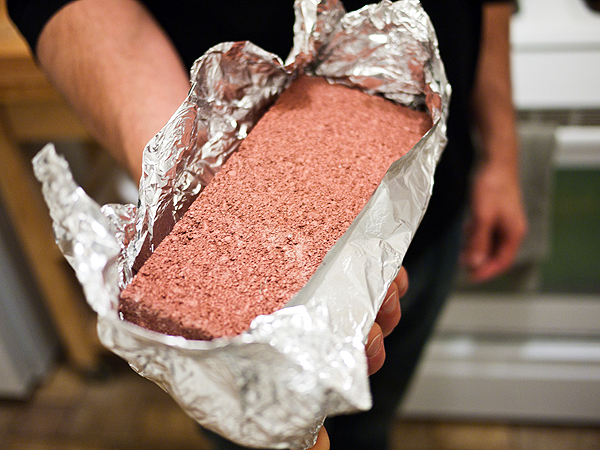 Even back then, when I only had single-digit years of chicken-eating training under my belt, there was never a doubt in my mind that 白切雞 was the only truly proper way to eat chicken – poached whole until just done, served at room temperature, dipped into an oily ginger-scallion sauce (yes, pretty much the exact sauce that now seems to be known as Momofuku/David Chang's ginger-scallion sauce everywhere I turn). My obsession was such that I requested this dish nearly every time we went out to dinner. Before long, my family stopped asking, 白切雞 just magically appeared at dinner tables, and the lazy susan spun just so to position the plate in front of my little self.
When my family moved to the States, I had high hopes for branching out in my chicken repertoire. After all, isn't chicken Americans' favorite meat? At last, here's my chance to show the world that I'm not as picky about chicken as they think I am! For the next 20 or so years, I tried chicken prepared every which way – roasted, batter-fried, grilled, you name it – but all of them inevitably left parts of the bird dry and tasteless and left me running back to my 白切雞 of yore.
Just as I was beginning to resign myself to a lifetime of chicken-related disappointments. Ben and Erin came to the rescue by introducing me first to Judy Rodgers' way of roasting chicken, then Marcella Hazan's two-lemons approach, then various ways of grilling chickens on beer cans. Now, I can't say that any of those are better than my beloved 白切雞 (sorry guys – but you know how it is, food entrenched in memories and all that), but I will say that they're inspiring enough to make me seek out other chicken preparations again.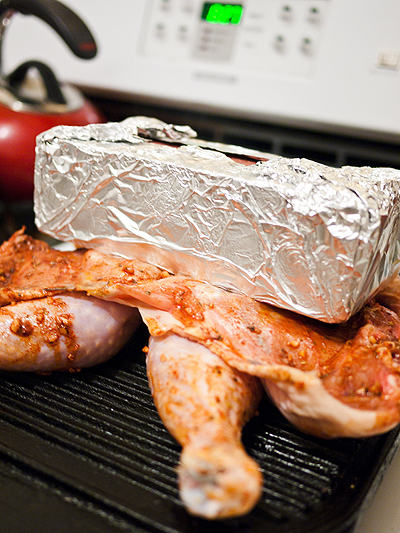 Like this here brick chicken. Nathan and I recently learned about this method of cooking chicken at one of our favorite neighborhood spots, although I originally assumed it was a Cajun dish since it was served with a side of dirty rice. I'll leave it to this wonderful post over on Pinch My Salt to teach you how to make the actually-not-Cajun-but-Italian brick chicken (pollo al mattone), including a video crash course on spatchcocking. Being grill-less folks, we used a cast-iron stove-top grill pan and improvised a more Cajun-y rub/marinade involving garlic, olive oil, paprika, and cayenne.
Now that we're good on the chicken front, may I strongly suggest that it be served with some yes-actually-Cajun dirty rice (also known as rice dressing) on the side? I know. It requires working with chicken livers and hearts. I know. But I assure you that the result is more than worth it and might just be the thing if you have picky-eating ways of your own involving animal organs. Think of it as the perfect gateway dish into the world of offal – and hey, even Hank Shaw agrees, so you know it's not just crazy talk.
Team BabyChili, much obliged for pulling me back from the brink of a one-chicken lifestyle. Now, can you do anything about my little tropical fruits problem?
Adapted from recipe in David Rosengarten's It's All American Food. Since we were serving this with chicken, we significantly decreased the total amount of meat used so it's more "ricey" than meaty. Original recipe calls for twice the amount of almost everything (except rice) and inclusion of both ground pork and ground beef.
We bought our chicken giblets (hearts and livers) from the butcher section of an Asian market. If you have a preferred butcher, I suggest calling and asking them if they can set aside giblets for you to buy.
This recipe calls for making a teeny tiny amount of dark roux to help thicken the sauce base. Use the smallest pot you've got and watch it closely to prevent burning. The good news is that it won't take nearly as long to darken a small volume of roux.