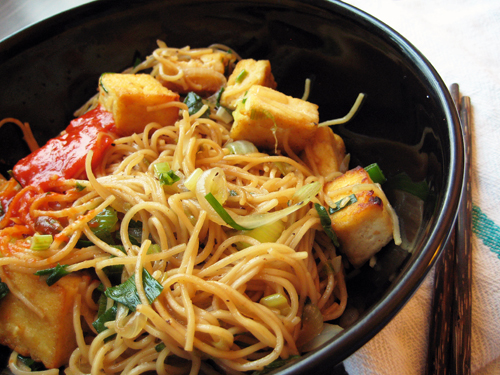 Do you have any culinary pet peeves?
I'm not talking about normal pet peeves, of course, since I'm sure everybody has those. In fact, I find that I am accumulating more and more of them as I get older. For example, pronunciations of words beginning with 'wh-' as 'hwh-' annoy me to no end, perhaps because it reminds me too much of my old high school English teacher, she who also emitted a certain, shall we say, "fragrance" reminiscent of mothballs.
What I'm talking about are cooking-related things that annoy you, mostly techniques that should be so so easy but for whatever reason, has always eluded you. My foremost pet peeve, at least until now, has been the stir-frying of noodles. Being almost as much a lover of noodles as dumplings, the fact that I cannot successfully make stir-fried noodles has been a thorn in my side for years. On top of that, I'm Chinese! Shouldn't stir-frying skills be part of my DNA?
You see, what I never could figure out is how to stir-fry noodles such that all the extra, non-noodley ingredients get incorporated into the noodles. No matter what I did, all the extra stuff would get pushed off to the sides of the pan and I'm left with a pile of plain noodles in the middle of the pan, forcing me to serve noodles "topped with stuff."
As it turns out, the solution to this problem is so simple and common-sense that I'm almost embarrassed to tell you. Are you ready for this world-changing technique? It is called… cutting the noodles up before you stir-fry them. That. is. it. (I still cannot believe it took me this long to figure it out, so feel free to mock me in the comments. I deserve it.)
Anyway, I remember reading about black pepper noodles in an old issue of Saveur and that became the inspiration for this dish. I love noodles! I love black pepper! A match made in heaven! But since I had neither rice vermicelli nor Chinese chives in the house, I made do with what I did have lying around, mostly onions, scallions, some chives leftover from scone-making, and half a tub of tofu. Truth be told, I may actually like this version better than the original.
It just goes to show that sometimes, being bad at following directions comes with its own rewards.
Inspired by Saveur's recipe for black pepper rice vermicelli.
For the meat eaters, chicken would be a great substitute for tofu here. I used dried shrimp roe noodles, which can be found at Asian markets, because I like their texture but also because that's what I keep around the house. Any type of thin egg noodles would work here as well as rice vermicelli. If you're using rice vermicelli, follow these instructions to avoid overcooking the noodles. And of course, if you feel the urge, topping with a fried egg is always a smart idea.